Menu:  Intro | Day 1-2 | Day 3-4 | Day 5-7 | Retrospective
Did you know I've worked from the road for over 3 years?  It's a lot like working from home except when I look out the window of my home on wheels, the scenery is always different!  In May 2015, we got rid of most of our stuff, sold our cars, and hit the road in a travel trailer.
Our trip started in Virginia.  From there we traveled South through the Eastern states, explored the entire Florida coast, visited 8 Texas cities, stayed a while in Arizona and California, and then went North through Nevada, Utah, and Colorado.  This entire time I've worked as a Jira administrator, consultant, and speaker on the Strategy for Jira Tour.  The tour highlight was speaking at the Atlassian office in Austin, TX and at Summit!
Boondocking
After three years, we've decided to add a new element to our mobile lifestyle:  boondocking.  Boondocking is camping without hookups to city power, water, and sewer systems.  We're used to bringing our own internet connection but until now, we've paid a campground to supply the other utilities.  It's a bit limiting though;  it means we can only go where others have resources available for us.  I'd prefer the ability to go anywhere (anywhere with a usable cell signal, that is.)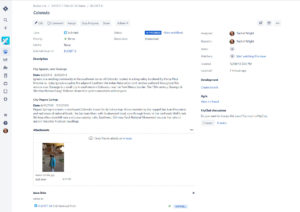 So what does all this have to do with Jira and Confluence?  Plenty!  Throughout my trip, I've had to guarantee my access to power and wifi in order to work, support the Jira Strategy Admin Workbook, and participate in the Atlassian Community.  I need reliable access to Jira and Confluence for my consulting practice, for my volunteer work, and for my personal life.  Without Jira, I can't access my "to do" list, help Jira administrators clean up too many custom fields, or prepare to merge multiple applications.  I track where we go in Jira and record the specific details of each location in Confluence.  Now, I'll need to do all that without the convenience of "full hookups."  We'll need to bring our own water and store it – before and after we use it.  Most importantly, we'll need to find a way to generate our own power.
Power Options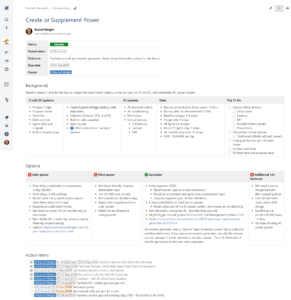 There are a few power generation options so I used Confluence to research and make the decision.  The travel trailer has its own 12 volt battery that's responsible for the lights, water pump, fire and carbon monoxide detection systems.  It also generates the spark for propane appliances, like the fridge, stove, and oven.  The battery is constantly recharged when connected to city power but without it, it doesn't last very long.  We need a way to recharge it and heavily researched all the methods including:  solar or wind power, gas or propane generator power,  disconnecting the battery altogether (not sustainable), and even sacrificing one or a series of $80 batteries (not smart).
We really love the idea of solar, and want to have it one day, but it's not simple (or cheap) to set it up correctly.  And, it's not fool-proof.  For example, what if it's a cloudy day?  "Sorry, Jira, there's no power to launch your URL today!"  🙁
For our first foray into boondocking, we purchased a small gas inverter generator.  Our $500 unit won't provide luxury.  We won't be able to use the microwave, air conditioning, or coffee maker.  But doesn't a coffee press make better coffee better anyway?  It's enough to periodically charge the 12 volt battery however so we can run a minimum amount of electronics.  We'll limit ourselves to the really important things:  2 cell phones, 2 laptops, and one wireless internet router for WiFi.  We'll open the windows if it's hot, light a lantern if it's dark, and generally try to live even more simply than before.  It will be less "glamping" and more "camping."  I do hope we'll have enough battery power to run a small fan though.  We'll see.
We've been researching and learning about volts, amps and watts.  I estimate it takes 65 watts to access a local Jira instance and 71 watts (computer + router) for a Cloud instance.  I'm new to these calculations though and my estimates could be way off.  Time will tell!
Official Test
Starting July 8, we're "cutting the RV cord".  We're going to the middle of a field in Pagosa Springs, CO to test our setup and spend a whole week "off the grid."  If all goes as planned, I'll be doing all my favorite Jira and Confluence activities like always.  I'll let you know how it goes.
Have you boondocked, dry camped, or gone "off grid"?  Share your stories and tips in the Comments section below.